I. Solar energy: Photovoltaic and thermal.
Solar photovoltaic. Matarromera is furthering the use of renewable energy, having established five solar-photovoltaic plants.
The Emina winery, located in Valbuena de Duero (Denominación de Origen Ribera del Duero) has three solar-photovoltaic power plants with a combined output capacity of 337kw and a total of 1,660 photovoltaic panels. The most powerful of these, with a 100kw output capacity and an annual output of 160,000kwh, is hidden from view since it was built within our warehouse.
The other two plants are located in the Valdelosfrailes winery (Cubillas de Santa Marta, Denominación de Origen Cigales) and at Emina Rueda (Medina del Campo, Denominación de Origen Rueda). Both can output 100kw and are made up of 630 panels.
Solar Thermal. Likewise, there are water heating systems for sanitation and industrial use, allowing for self-sufficiency in the production process with two photo-thermal solar power plants: 23 collectors at the Valdelosfrailes winery, and 30 collectors at the Matarromera winery.
II. Biomass: System allowing energy production from winery by-products
The wine production process at any winery always creates by-products, which are usually destroyed or sent to landfills without being put to any sort of use first.
The aim of Matarromera Group is to use this waste as an energy source, via a biomass boiler capable of handling 143 tons per year with an energy production output of 623,200 kWh per year.
Matarromera's use of this biomass means that C02 emissions into the atmosphere are reduced by around 400 tons a year, thereby helping to reduce the greenhouse effect.
This project has received the award for Best Eco-Innovative Action in the Solid Biomass sector, awarded by the CARTIF Technology Centre, the Biodiversity Foundation and the European Social Fund, as part of the 2007-2013 Green Jobs Programme.
III. Proprietary EDAR and use of rainwater and waste water for irrigation
The use of EDAR (Estación Depuradora de Aguas Residuales, or Waste Water Treatment Plant) allows all the waste water produced by the various manufacturing facilities across the Group to be processed, returning the water to the ecosystem in a fit state to be reused.
The wineries have a system for harnessing rainwater. With this method, rainwater is used rather than being lost to evaporation, thereby reducing the need for water extraction from the aquifer. It is estimated that water wastage has been reduced by 50%.
Thanks to these good practices, an estimated annual saving of 0.05 litres of water per bottle of wine produced has been achieved; this means that the estimated savings in the production process alone amount to 60 m3 (60,000 litres) per year.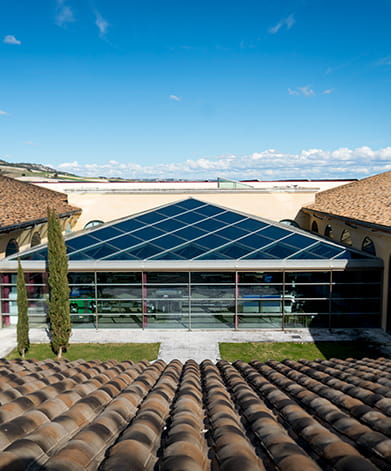 IV. Eco-efficient buildings: The Emina Winery & Wine Museum as an example of eco-sustainability.
Bodega Emina, the headquarters of the Matarromera Group and the Emina Wine Museum, is an example of an environmentally sustainable building: 90% of its energy demands are met by renewable energy, 60% of the building's spaces have natural light, 70% of the materials used are recycled, there is an air conditioning system that can use solar thermal energy via thermal absorption, liquefied petroleum gas and biomass are used as fuel and there is a passive cooling system facing north in those areas with lower thermal and / or illumination requirements.
Built in 2005, it is the first integrated sustainable development project and stands as an example of the Group's commitment to implement ecological efficiency in all areas, in line with the principles of environmental sustainability.
V. Organic farming: olive / vineyards
As further evidence of the Matarromera Group's commitment to the environment, many of its 500+ hectares of vineyards and
80+ hectares of olive plantations operate in line with ecological farming methods.
VI. Reducing energy consumption and CO2 emissions
The Matarromera Group constantly measures energy consumption in its workplaces, by conducting periodic energy audits and implementing measures to reduce energy consumption as a strategy for reducing and offsetting its carbon footprint.
The Matarromera Group is a member of the "Reduce CO2" business association, which promotes the reduction of emissions, energy savings and energy efficiency.
VII. Carbon footprint audits
The Matarromera Group has become the first Spanish wine group to calculate the carbon footprint of several of its wines (Emina Verdejo, Emina 12 Meses and Matarromera Crianza) or, in other words, to understand the impact in real terms of the production of its wines on the atmosphere and on the environment.
A "carbon footprint" is a combination of greenhouse gas (GHG) emissions associated with the various phases of a product's life-cycle, measured in equivalent units of carbon dioxide (CO2). AENOR (Asociación Española de Normalización y Certificación, the Spanish Association for Standardization and Certification) has certified the CO2 balance of the vineyard where Matarromera's Emina Verdejo grapes are grown, throughout the production and wine preparation processes, as well as transport, distribution, consumption and the recycling of the various elements of the product.
AENOR has certified that the Matarromera Group emits 829 grams of CO2 for each bottle of Emina Verdejo produced, 1.4 kg of CO2 for Emina 12 Meses and 1.1 kg for Matarromera Crianza, with these being the first wines under the Ribera del Duero Denominación de Origen to bear this information. The goal of this is to reduce and offset such emissions for future vintages.