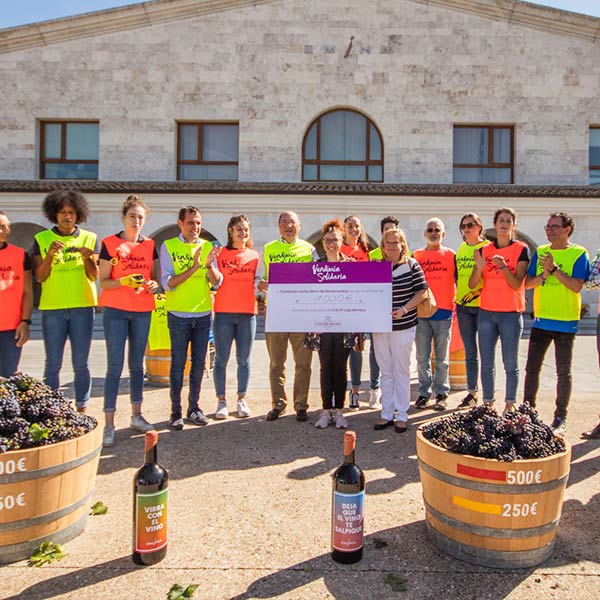 Today our Foundation held its first Charity Harvest. In collaboration with the Provincial Council of Valladolid, the winery has replaced its harvesters with the handball team Aula Cultural de Valladolid, whose players from the Spanish Honorary Division participated in a friendly competition to harvest the most kilos of grapes. They collected 100 kilos of grapes in total, and the Foundation has multiplied this by 10 to donate a total of €1000 to the «Educate Through Senses" project from the nursery and primary school Lola Herrera de Tudela del Duero.
The event, held at Bodega Emina Ribera, was attended by the head of the Provincial Council of Valladolid, Conrado Íscar, as well as by Carlos Moro, chairman of the Carlos Moro de Matarromera Foundation, who also wanted to participate in this friendly initiative. After a morning of harvesting, the handball team was able to learn about the entire winemaking process, a process that they themselves participated in. The players showed as much skill in the vineyard as they do on the playing field.
For Carlos Moro, «this initiative highlights the values of our Foundation, combining land, teamwork, commitment to the rural environment and supporting children.. The Lola Herrera school presented their wonderful project to us and it captivated us, so we decided to participate and support it».
The head of the Provincial Council, Conrado Íscar, values «the involvement of athletes from the province in learning about the traditions of our rural environment, such as the harvest and the promotion of healthy eating habits".
For Sofia Ballesteros, the creator of the project «Educate Through Senses», this initiative «allows us to develop our dream as parents and teachers for the students who need it. Having the resources to make it happen is very important to all of us".
This action is part of the Carlos Moro de Matarromera Foundation's efforts to promote the development of activities and programmes related to the personal, social, human and cultural development of people. We focus particularly on caring for our most precious resource, the land, in addition to providing aid to disadvantaged groups, research for improving health, protecting the environment and the promotion of entrepreneurship in rural environments.
The work carried out by the Lola Herrera Educational Centre aims to improve student learning through guided multisensory stimulation. According to the psychologist María Bilbao, «over-exposure to visual stimuli can produce an excess of neurological activation, which could lead to problems with hyperactivity and impulsivity». With an experimental methodology and technological assistance, the project will contribute to improving such aspects as students' neuroplasticity and development of other skills, such as interpersonal intelligence. All this is done through the creation of multisensory rooms that transform the learning process into a 360° experience.