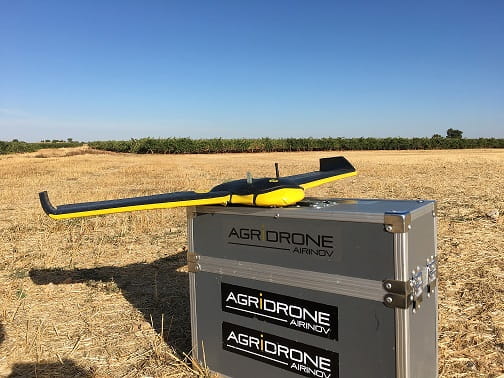 Group Matarromera is preparing its harvest for this year using precision technologies. Pilotlessaircraft (drones) fly over their vineyard and olive grove plots, in order to obtain data on the growth of the vegetation according to its phenological state.
Matarromera has spent the last few years developing an integrated vine crop management system using various techniques and innovative technologies such as wireless sensors, satellite images or drones. It has thus entered Industry 4.0, bringing the fourth industrial revolution to its vineyard and olive groves by digitising and coordinating the different production processes. This allows the company to cross-reference large amounts of data, obtaining previously inaccessible information that is essential for forecasting and decision-making, and which will play a decisive role in the constant improvement of the quality of their products.
Thanks to this technique, the team of oenologists receives relevant information that helps them assess the quality and location of each area, so that a selective harvest can be made by area. Precision farming allows for more respectful handling of crops, reducing biohazards and the use of herbicides, pesticides and water, bringing significant environmental benefits.
Matarromera has carried out this study in collaboration with the Valladolid-based start-up company Smart Bed, a study which has provided improved efficiency and performance and therefore means greater precision in terms of time and distance when compared to previously used technologies, making it possible to take images on a particular day in a precisely determined location, in high definition (15 cm / pixel by 20 cm / pixel via multispectral camera). In addition, Matarromera is the first company to use LoRa in vineyards and olive groves; a low-power, wireless connectivity system that meets the specifications required by the Internet of Things, such as bi-directional communication, mobility and geolocation.
The technological combination of drones and infrared and multispectral imaging allows us to analyse the vigour of the vines, and get an up-to-date map of the vineyard so as to determine its health status at any given time, its chlorophyll activity, its anthocyanin content and its hydric stress. This provides accurate indicators of the maturity and quality of the grapes, and helps to determine optimal harvesting times and soil conditions, to determine optimal pruning times, to find out whether there is any need for fertilisers and pesticides, and to detect any pests or possible plot damage… in addition, productivity maps enable us to improve and expedite decision-making, optimise the quantity and quality of crops, to plan harvesting campaigns and to implement strategies to automate the management of the vineyards.
The Matarromera Group develops new analysis tools every year to evaluate the direct effects that agronomic practices are having on the vineyard. These technologies represent considerable cost savings in areas such as pesticides or fertilisers, and allow for quick decisions to be made regarding these highly variable, delicate and special crops, allowing for the optimisation of crop management.
The Group, chaired by Carlos Moro, has consequently achieved more efficient management of its crops and improved the quality of its raw material and therefore the final quality of its products, resulting in high-end wines and oils which are greener and have greater antioxidant capacities, there by offering consumers healthier products with distinctive added value, making them more competitive in an increasingly demanding market.
The beginnings. Satellite images. Agroeco project
Last year, Matarromera monitored vine crops and olive groves via remote sensing satellites for the first time as part of the Agroeco project, a pioneering precision farming project focused on grapevines and olive trees, which allowed it to monitor the application of inputs and bio-stimulants through geo-referencing technologies such as satellite imagery of the plots where the tests were carried out. The companies ABRO (belonging to Matarromera Group), AB AZUCARERA IBERIA and COTESA participated in the Agroeco R&D project as an ation wide collaboration, funded by CDTI (Centro para el Desarrollo Tecnológico Industrial, the Spanish Centre for the Development of Industrial Technology).
This allowed the wine company to develop an integrated vine and olive crop management system, using precision viticulture techniques. As part of this project, the wine company began applying these technologies to control the development of their crops throughout the course of the year and to quickly detect and remedy any deficiencies in terms of irrigation and plant growth.
The satellite images allowed relevant data on agronomic parameters to be extracted, thereby determining the quality of plants and fruit (grapes and olives), which essentially means vegetation indices calculated by the quantity, quality and development of vegetation, the leaf area index or a simulation of the crop canopy that indicates the presence of chlorophyll.